One of the things I've really learned about myself after living in Europe for the last year and a half is that my number one priority while traveling is to try as much of the local food & drink as possible. In my opinion, you can't truly get to know a country until you really dive into the local cuisine. From tasting port in Porto, paella in Valencia, Guinness in Dublin, fish & chips in London, jambalaya in New Orleans, key lime pie in Key West, and shrimp & grits in Charleston, I thoroughly enjoy collecting memories through my culinary experiences. This is the very reason why I absolutely love to go on food tours while traveling. You not only get to sample a ton of local dishes and drinks, you also get to learn about the history of how each thing became such a staple in the culture of the country you are visiting. Food, wine,
&
history? Sign me up!
With that said, I was obviously very excited when my parents suggested that we go on a wine and food tour while in Rome. I inherited my love of all things to do with food and wine from these two very wonderful people, so I knew it would be an absolutely fantastic night out on the town! After a
long day of sightseeing
at the Forum, and only eating gelato, cheese, and a few slices of salami for lunch, by the time we met with our guide, Kristian, we were famished and very thirsty. The perfect way to start a wine and food tour, no? ;)
The Tour
:
We met Kristian from
Wine & Food of Rome
in the Campo dei Fiori piazza in the late afternoon before heading to our first stop on our Wine & Food Adventure tour. We arrived at the piazza right as the oldest market in Rome was wrapping up for the day. It was a fantastic sight to see - customers trying to buy their last few items for dinner and merchants wrapping up business and packing up, all while the sun was low enough in the sky to cast a warm glow across the piazza. After taking a moment to look around at the fading market life, we set off to our first stop. Since other customers canceled last minute, my parents and I had our wonderful guide all to ourselves! The four of us crammed into a tiny booth at the back of a very traditional looking restaurant just a few blocks away from Campo dei Fiori. We started off the night with a sparkling Spumante wine which is slightly similar to champagne, but has its own unique filtering process. Kristian paired our wine with a delicious mild, velvety, melt in your mouth proscuitto. It was a lovely and light combination to start the night with.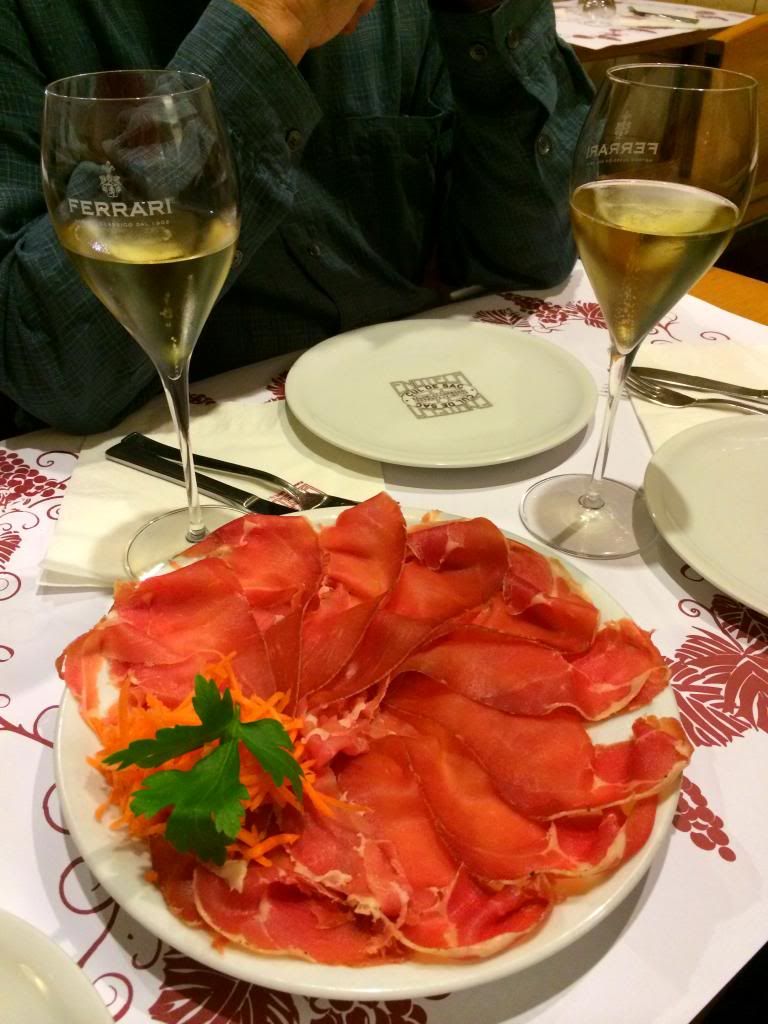 After finishing our glasses of Spumante we set off for our next stop, an enoteca (wine bar) on the other side of the piazza. We had a white wine tasting paired with a delicious cheese platter. The man working the bar tested our formaggio knowledge by asking us to correctly identify all of the cheeses with a promise of an additional glass of wine if we were successful. We spent the rest of our time in the enoteca learning about the different types of Italian white wines, something I know very little about. I was pleasantly surprised by both of the wines we tried, considering I typically just think of red wine when I think of Italy. They were both light, slightly fruity, and refreshing.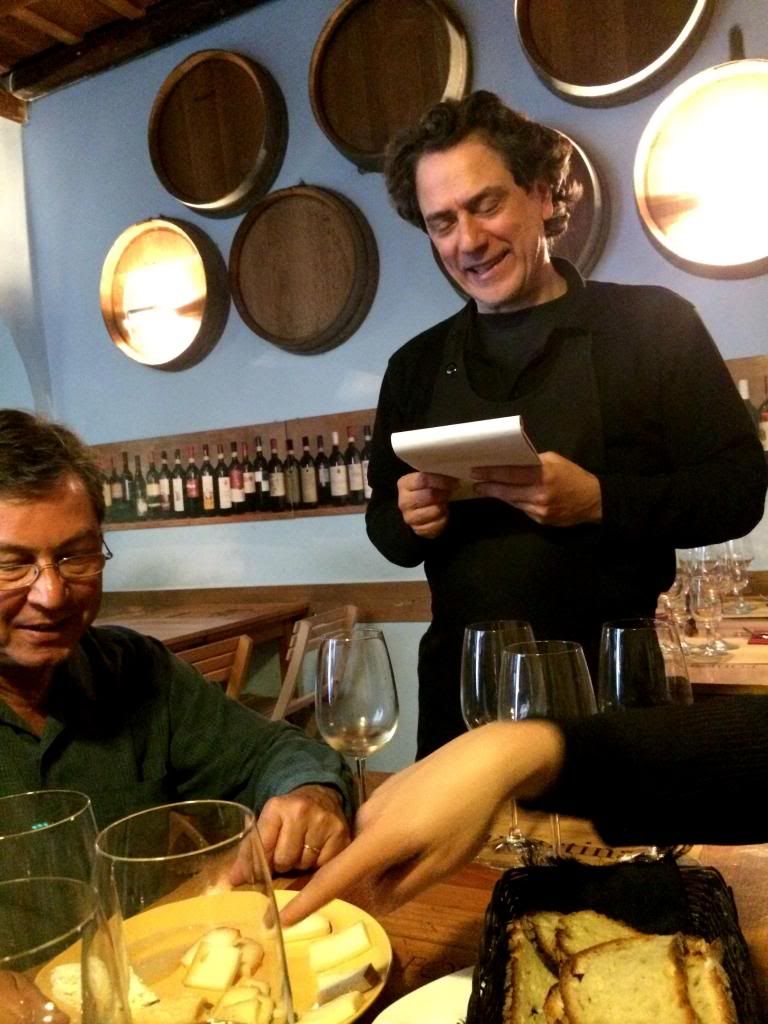 After tasting our white wines and cheese at the enoteca, Kristian walked us across the Tiber River into the charming medieval Trastevere neighborhood. Its narrow, winding streets made me think of my favorite small towns in Spain, and the smells of pizza and pasta wafting through the air were absolutely heavenly.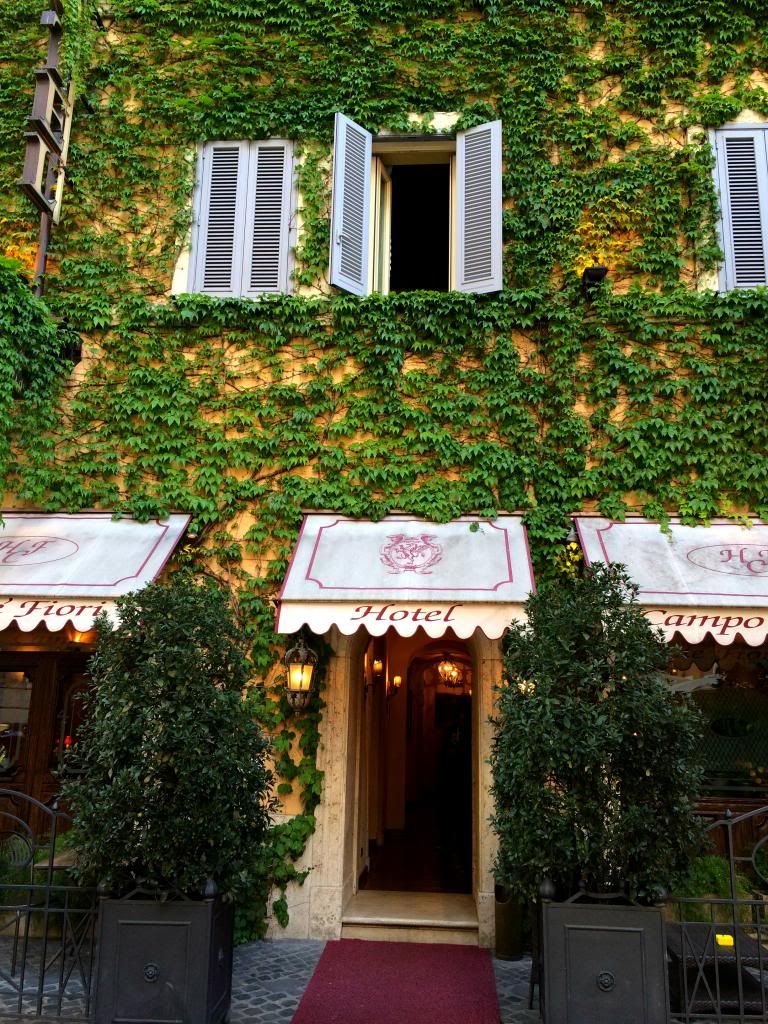 Before heading to our next destination, Kristian asked if we would be interested in trying Italian street food. Considering I love anything fried and portable, we all quickly agreed. He stopped at a little to-go pizzeria shop right at the entrance of Trastevere and ordered a few arancinis. Arancinis are fried risotto rice balls stuffed with various Italian favorites like tomatoes, sardines, and cheese that originated in Sicily.
Our last stop of the night was at a trendy enoteca and restaurant right in the heart of Trastevere, where we sampled red wines and tried a bunch of Italian classics from the potluck style spread at the bar. My favorite snack was the "pizza bread" on the back plate of the photo below. My Sicilian great aunts and uncles used to always make it when we would go to their houses for Easter when I was growing up. So many memories! The wines we tried were once again fantastic, and the conversation even better! I mean... we had already sampled three wines prior to this stop. ;) Although this particular tour is advertised as more of a wine tour with snacks instead of meals, you certainly do not leave hungry! We had more than enough food to help sop up some of that delicious wine, and leave us completely satisfied and without the need to eat dinner.
What is a wine and food tour without a great guide? Kristian was extremely warm and friendly, and his love for and knowledge about Italy made itself absolutely clear all night. He went to wine school to become a certified Sommelier, so he definitely knows what he is talking about when it comes to all things vino. He was absolutely lovely company. Although there are quite a few food tour companies to choose between in Rome, I highly recommend going on a tour with
his company
!
We were only able to scratch the surface of the culinary delights that Rome has to offer, but that just means that we will have to come back for more someday. Have you been to Rome? What was your favorite meal of your trip?
Disclaimer: I was given a discount on the food tour in exchange for a blog post, but all opinions are 100% my own. I have not included the names of the restaurants Kristian took us to on purpose. I absolutely recommend that you take a food tour with Wine & Food of Rome to find out more!
xx, Jen